Madhya Pradesh is a treasure trove of wildlife, diverse flora and fauna, as there are many wild life sanctuaries and national parks here. The state has 9 National Parks and Tiger Reserves, and 21 wildlife sanctuaries. Among them the Madhav National Park Gwalior is one of the reserves of diverse fauna, while flora here is typical grassland and a mix of deciduous trees.

Madhav National Park | Image Resource : bhaaratdarshan.com


Interesting facts about the Madhav National Park
This national park is one of the splendors of Madhya Pradesh for not just having some nice animals and birds, but also for containing ruins of historical sites, heritage structures, etc. which have immense archeological importance.
Earlier a hunting ground used by the kings of Gwalior, the 375 sq.kms area of forests and wetlands got the status of National Park in 1959.
The Park got its name after the Maharaja of Gwalior, Madho Rao Scindia.
The park contains two large lakes, the Madhav Sagar Lake and the Sakhya Lake.
Various migratory birds visit the park for the wetland ecology created by the lakes. To mention, pintail, pochard, geese, teal, gadwall and mallard are few.
Lots of marsh crocodiles are found here in the lakes.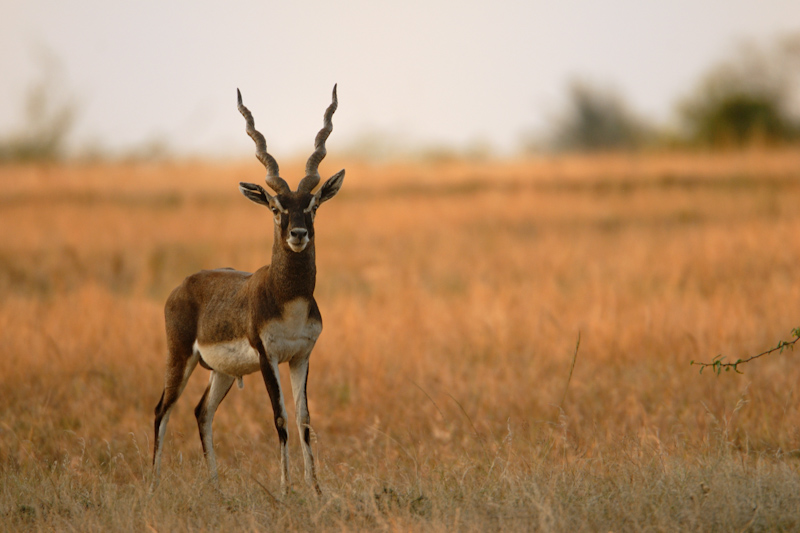 Black Buck | Image Resource : kalyanvarma.net


Animals seen here

The animals you would mainly see here are Tiger, Leopard, Sloth Bear, Jungle Cat, Jackal, and Striped Hyena among Carnivores, and Langur, Indian Gazelle, Chinkara, Sambar, Nilgai, Chital, Black Buck and Chausingha among Herbivores.

When to visit

While the gates of the Madhav National Park remains open all day, from 6:30 am to 2:30 pm and then 6 pm to 10 pm, and through the year, the best time to visit it is from November to May.

Where to Stay

Hotels, Villas, Lodges and Resorts are available within the Park- some inside the gates, and some outside.

How to reach the Madhav National Park

A national park is never near an urban center. Hence, whether you reach closest to the park by rail, road or air, you will always have to be prepared to travel some distance by road to reach the park entrance. In case of the Madhav National Park Gwalior, the nearest airport is at Gwalior, which is still 120 kms from the park. The nearest railhead is Jhansi, which is closer and 95 kms from the park. The park is well connected to major cities by road, and on reaching Jhansi or Gwalior, you will get taxis, car rentals, buses etc. to the park.

Karnataka Express | Image Resource : kxcdn.com


To reach Jhansi, one of the best options is to board the Karnataka Express. This train no 12628 runs from New Delhi to KSR Bengaluru City Junction, and the train no 12627 goes reverse. The up train from New Delhi starts at 2115 hours, and reaches Jhansi at 0306 hours on day 2. The down train from Bengaluru starts at 1920 hours and reaches Jhansi at 0345 hours on day 3. Important stations on the route are Mathura, Agra, Gwalior, Bhopal, Itarsi, Khandwa, Mnamad, Daund, Solapur, Guntakar, and Dharmavaram.

The train offers pantry car with on board food and e-catering facilities. If you are traveling in an AC coach, you would also get bedding as a complementary facility. Overall a good train.